Humboldt County has has special place in its heart for Reggae musician and legend Bob Marley. Here is an interesting article with some useful inserts and edits by Fr Laurent
---
Twenty four years on few know of his conversion to Christianity.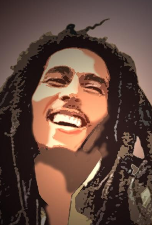 In May 1981, the world lost the man who had been described as the "first Third World superstar". The Hon. Robert Nesta Marley O.M. died on 11th May 1981 in a Miami hospital after an 8 month battle with cancer. He was 36.
To the masses he was known as Bob Marley – the man who brought them reggae and Rastafarianism. His was the voice of classics like "No Woman No Cry" recorded live at the London Lyceum Ballroom in 1975.
However, what most people don't know, and many try to cover up, is the fact that Bob Marley converted to Christianity in 1980. In fact on 4 November 1980 he was baptised and became a member of the Ethiopian Orthodox Church. When he was buried under Orthodox rites on 21st May 1981 it was with his Bible and his Gibson guitar!
Bob Marley was born at Nine Miles, St Ann's in Jamaica. His father was Norval Sinclair Marley, a 50 something Liverpool born captain in the British Army. His mother, an 18 year old teenager, was Cedella Booker. His birthday is thought to be 6th February 1945 although no birth certificate has ever been found.
His mum, and his grandparents, read the Bible at home and worshipped in a Christian church. Bob Marley strayed away from that upbringing as a teenager and as an adult embraced Rastafarianism. He had married Alpharita Anderson in February 1966 and while he was away in the USA earning some money to pursue his musical career she had converted to Rastafarianism following the visit to Jamaica of Haile Selassie I, Emperor of Ethiopia. Rastafarians worshipped Selassie as the Messiah and Saviour. Bob followed suite and spent his career expousing the beliefs of Rastafari in songs like "One Love", "Jammin'" and "Exodus".
The worship of Selassie is a little ironic as Selassie was a Christian and in the 1970's personally commissioned Archbishop Abuna Yesehaq to go to Jamaica to start a church that worshipped Christ and not himself in the hope that Jamaicans would follow the true Christ. Yesehaq became the head of the Kingston chapter of the Ethiopian Orthodox Church.
The Archbishop (pictured left), interviewed by Barbara Blake Hannah for Gleaner's Sunday Magazine (November 25 1984), told how Bob Marley had come to his church for some time. When he had expressed a desire to be baptised, people close to him who controlled him and who were aligned to a different aspect of Rastafari prevented him from going ahead.
The Jamaicans.com website says that Bob remained outside the church for several years after Rita and the children converted in 1972. Bob was under the spiritual guidance of the archbishop but was baptised just a year before his death, after 3 aborted attempts to convert in Kingston. He backed out each time, says the Archbishop, after being threatened by other rastas. Marley was finally baptised in the Ethiopian Church in New York where less resentments were less inflamed. The Archbishop christened him Berhane Selassie – "light of the Trinity".
Yesehaq told Barbara Blake Hannah:
"I remember once while I was conducting the Mass, I looked at Bob and tears were streaming down his face. Many people think he was baptised because he knew he was dying, but that is not so… he did it when there was no longer any pressure on him, and when he was baptised, he hugged his family and wept. They all wept together for about an hour."
Yesehaq is adamant Bob's conversion was genuine. It is clear that Marley denounced the belief of Selassie as God at his conversion and baptism into the Ethiopian Orthodox Church and accepted their Christian belief system, otherwise his funeral would never have taken place in the church. The Ethiopian Orthodox Church does not allow any ceremonies including funerals for non-members.
Yesehaq's testimony is supported by Judy Mowatt, one of Marley's backing singers the "I-Threes", which also included his wife Rita Marley and Marcia Griffiths. Judy (pictured left) sang with Bob for 6 years and told British journalist and broadcaster Mike Rimmer in an interview that was published in Christian Herald in March 2005 of a phonecall she received from Rita when Bob was dying.
"She said to me that Bob was in such excruciating pain and he stretched out his hand and said 'Jesus take me'. I was wondering to myself 'Why is it that Bob said 'Jesus' and not 'Selassie'? But I never said it to anyone. Then I met a friend whose sister is a Christian and was a nurse at the hospital where Bob was treated and she had led him to the Lord Jesus Christ. So when Rita saw him saying 'Jesus take me', I now know it was after he had received the Lord Jesus Christ in his life."
Judy Mowatt became a Pentecostal Christian herself in the mid 90s and is now a gospel reggae performer. Mike Rimmer asked her why the story of Bob Marley's conversion was not more widely known:
"If people knew, they would be drawn to Jesus Christ. Nobody wants to promote that in Jamaica. I said it on a popular television programme over there and a Rasta man met me and asked me why did I have to say that? I told him it was because it's the truth! But he never wanted me to reveal that and I think that nobody wants it to be revealed because so many people would be drawn to Jesus."
Bob Marley's official website doesn't even mention his conversion, although a number of fan sites do.
Fans celebrated what would have been Bob Marley's 60th birthday this February amidst rumours his body was to be exhumed and taken to Ethiopia. His widow Rita has strongly denied the rumours.
Three years after his death the "Legend" compilation album of Bob's greatest hits was released, spending 12 weeks in total at No 1 in the UK album charts and selling over 15 million copies in the UK and USA. Twenty four years on the legend lives on. Bob Marley found a "Redemption Song" that "Satisfied his Soul". The question is will the "People Get Ready" for their "Exodus"!
Bob Marley knew Jesus – do you?
---
Comments by Fr Laurent: Few Christians understand the connection that Bob Marley made between his initial Rastafarian convictions and his fulfillment in the Orthodox Church. Rastafarians had the belief that the Ethiopian emperor Haile Selassie I was a divine being worthy of worship. This was obviously not Christianity, but Bob Marley could see that the Orthodox Christian faith could make sense of this spiritual journey. Just as Solomon was said to have sat on the throne on God and that the people "worshiped God and the king" (1 Chronicles 29:20), Emperor Haile was seen as descendant of Solomon who had an iconic aspect. But Bob Marley was able, through the lens of Orthodox Christianity, to move from the shadow to the icon, and from the icon to the reality of God the Father revealed in the Great Solomon Jesus Christ, the true King.